Those that love comics as well as space, will be happy to know that a comic series has recently launched, called Little Spaceoneers. Short stories follow the everyday adventures of four kids and their robot dog, while they prepare for their mission to Mars. Little Spaceoneers is published weekly on social media.
Little Spaceoneers is a three panel comic in which Stella, Kurt, Kaya and Isaac and their robot dog La1ka encounter everyday problems of starting up a space business. During their preparation for a Mission to Mars, they encounter very Earthly situations of everyday life.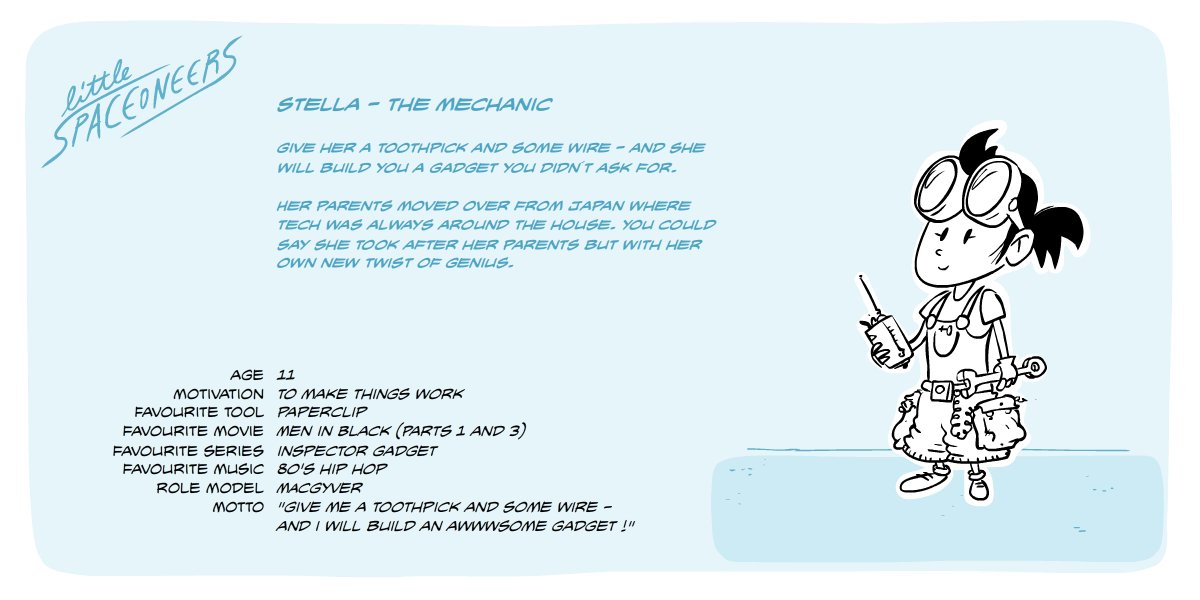 Character chart of little Spaceoneer: Stella.
This comic is made to accompany the website , a website that focuses on pioneers of space and technology. Because of a recent rise in emerging space startups, the kids of today can be the pioneers of tomorrow in the space industry. The mission of is "to enable a new generation a space pioneers, by breaking down barriers and achieving the unexpected." The humor and wit in these comics fit perfectly with that motto.
Little Spaceoneers will first be published on social media each week under as "a story of every child with big dreams, and the child in us that makes who we are and what we dream of." A new cartoon will be published every Tuesday, and for the first 6 weeks, a new character card each Thursday.
Links
Little Spaceoneers is made for
Created by and
Produced by
Share: